Over 19,000 specimen records from the LACMIP's California Cretaceous collections are now available on iDigBio!
Interested in viewing these records? 

➡

 Search LACMIP's iDigBio recordset for "Cretaceous Seas of California".
Several ammonites are also available in 3D 

➡

 View this project on Morphosource.
Digitizing the Cretaceous Seas of California
Project overview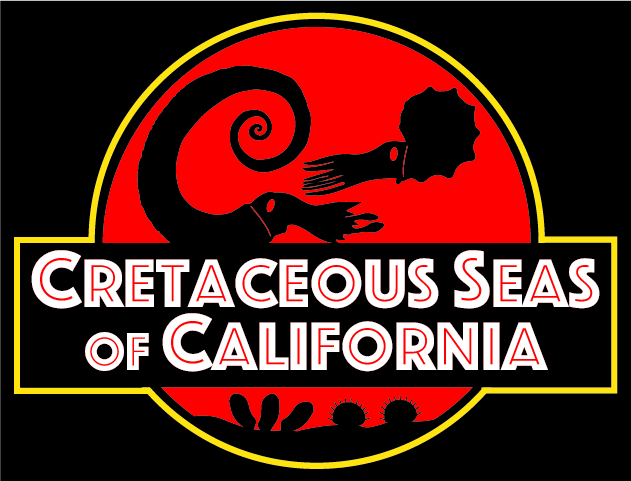 The Natural History Museum of Los Angeles County cares for a large collection of marine invertebrate fossils from the Cretaceous of California and Mexico. These collections – mostly bivalves, gastropods, and ammonites – were made by paleontologists from the museum and local universities (UCLA, CSUN, Cal Tech) over a period of 140 years. In the 1980s, these collections were donated to the museum and combined within the Invertebrate Paleontology collections, forming the most comprehensive holdings of invertebrate fossils from the Cretaceous of California in the world. Despite their research potential, these collections remained largely untouched and inaccessible beyond the museum for decades.
In 2016, the Invertebrate Paleontology collections received funding from the Collections in Support of Biological Research (CSBR) program of the National Science Foundation to improve the curation and accessibility of these collections. With help from interns and volunteers, we aim to curate and digitize 26,000 specimen lots and 126,000 specimens by 2019. We call this curation effort, and its accompanying outreach, the Cretaceous Seas of California project. Another component of the CSBR grant is to rehouse an additional 23,000 lots necessary for the ongoing Eastern Pacific Invertebrate Communities of the Cenozoic project, as well as replace damaged cabinets. All data produced as part of this project will be made freely available online through large biodiversity aggregators, including iDigBio.
Community engagement
Nature Fest (March 2017) marked the public debut of the Cretaceous Seas of California. Invertebrate Paleontology staff and volunteers shared some of our most spectacular ammonite specimens with museum visitors, engaging them in conversation related to the diversity, form, and function of these extinct and unusual organisms. This program was immensely successful, and repeated at the NHMLA's annual Dino Fest (September 2017). Smaller-scale programming featuring the Cretaceous Seas of California was featured at one of the NHMLA's Scavenger Safari events  (June 2017), as well as the Western Science Center's annual Ice Age Soirée (May 2017). Additional community outreach for the Cretaceous Seas of California project will involve partnering with the local avocational paleontology community, for whom we will create resources to facilitate their exploration of Cretaceous fossils and collecting localities in California.
"Cretaceous in the Classroom"
With help from teacher interns from California State University Dominguez Hill's CSI3 program, LACMIP is developing an NGSS-aligned unit plan for elementary students featuring 3D printed ammonites from California. Activities designed as part of this unit introduce students to the concepts of geologic time, paleontology, scientific deduction, inference, qualitative and quantitative description, and the physics of ammonite form and function. Two Los Angeles Unified School District (LAUSD) teachers (recent graduates of the CSI3 program) presented this project at the annual Geological Society of America meeting in Seattle, WA (October 2017).
Professional activities
Invertebrate Paleontology staff have presented the Cretaceous Seas of California to the professional community at four meetings (6 presentations total) , including an iDigBio-sponsored workshop, "Digital Data in Paleontological Research" (Berkeley, April 2017), and the annual meetings of the Western Society of Malacologists (Los Angeles, June 2017), the Society for the Preservation of Natural History Collections (Denver, June 2017), and the Geological Society of America (Seattle, October 2017).
Project benchmarks
As of June, 2017 the Cretaceous Seas of California project has made steady progress towards meeting the original goals of the CSBR proposal. Data collected as part of our comprehensive whole-drawer inventory are available here.
This project is supported by the National Science Foundation (NSF DBI 1561429).