Internship Program
The Invertebrate Paleontology collections of the Natural History Museum of Los Angeles (LACMIP) maintains an active internship program for local university and college students with diverse interests related to science and museums. Our interns participate in a variety of collections-related activities, including specimen curation, digitization, outreach, and research.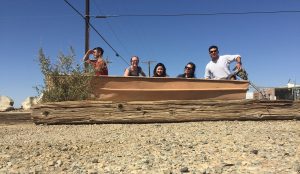 How to become an intern?
The goal of the LACMIP internship program is to help students and recent graduates with interest in science and museum careers gain hands-on experience. While prior experience is not necessary to be successful, we expect interns to be eager and willing to learn, able to work respectfully in a busy office environment, and maintain clear communication with LACMIP staff. Interns must have their own transportation to/from our facility in Carson, CA.
If you would like to apply to become a LACMIP intern, please fill out the volunteer application form. You may also submit a letter of interest, resume/CV, and professional references (including the contact information for your academic advisor) via email. Please note that submitting an application does not guarantee placement in the program.
Our interns
| | | |
| --- | --- | --- |
| Yuka Oshima | University of California, Riverside | 2019- |
| Sydney Darling | Occidental College | 2019- |
| Heather Chaides | California State University, Dominguez Hills | 2019- |
| Elle Oceguera | Long Beach City College | 2018- |
| Erin Reyes | Long Beach City College | 2018- |
| Jesse Avalos | Cerritos College | 2016- |
| Jesus Roman | California State University, Dominguez Hills | 2017- |
| Katelin Subbie | El Camino College | 2017- |
| Lauren Didio | University of California, Los Angeles | 2018- |
| Mila Silva | Long Beach City College | 2018- |
| Trevor Dalton | California State University, Dominguez Hills | 2017- |
Alumni
| | | |
| --- | --- | --- |
| Keana Tang | California State University, Long Beach | 2018-2019 |
| Nicole McGee | Occidental College | 2019 |
| Gabi Bellino | Harvey Mudd College | 2017-2019 |
| Eleanor Wolcott | Santa Monica College | 2018 |
| Juan Jimenez | California State University, Dominguez Hills | 2016-2018 |
| Greg Cruz | California State University, Long Beach | 2018 |
| Anna Helms | Santa Monica College | 2017-2018 |
| Javaria Aziz | El Camino College; San Diego State University | 2016-2018 |
| Chelsie Goins | Occidental College | 2018 |
| Cambria Rodriguez | California State University, Dominguez Hills | 2015-2018 |
| Cynthia Fait | California State University, Dominguez Hills | 2016-2018 |
| Jose Sifuentes | California State University, Northridge | 2016-2018 |
| Melissa Fernandez | California State University, Dominguez Hills | 2017-2018 |
| Crystal Dominguez | Santa Monica College | 2017 |
| Erin Gercey | El Camino College | 2017 |
| Maria Rodriguez | California State University, Dominguez Hills | 2016-2017 |
| Alex Hernandez | California State University, Long Beach | 2016-2017 |
| Megan Huh | Glendale Community College | 2016 |
| Vanessa Muhl | Glendale Community College | 2016 |
| Richard Laguna | Glendale Community College | 2016 |
| Chang Kim | Glendale Community College | 2016 |
| Francine Cason | Long Beach City College | 2016 |
| Priscilla Vos | El Camino College | 2015 |
| Mitch Adams Fisher | Glendale Community College | 2015 |
| Cameron Casillas | Glendale Community College | 2015 |
| Alvaro De La Cruz | Glendale Community College | 2015 |
| Shannon Ary | Glendale Community College | 2015 |
| Alessandro Sigrorini | Glendale Community College | 2015 |
CSUDH CSI³ Teacher Interns
Spring 2018
Theresa Cianflocco, Alejandra Lopez
Winter 2018
Alexandra Mootry, Elizabeth Moran
Fall 2017
Christina Rivad, Rubicela Torres
Summer 2017
Ana Diaz, Cristina Gonzalez, Leilani Lopez,  Danielle Van Natta, Destinee Villanueva