NightWatch Has Launched!
Saturday night (18 August 2013) was the target night for all BioSCAN: NightWatch insect traps to be deployed. If you have a trap, but missed that night, try deploying it as soon as you can. What's most important is that you record the correct dates of deployment and retrieval on your data label.
Once you have deployed and retrieved your catch, bring it back to the Museum for us to sort and identify (see below). If you had a good deployment (trap undisturbed, light worked) but there are no insects, your data are valuable! Please let us know what happened by email (but you don't have to bring back your empty catch bag to the Museum — just an email is fine).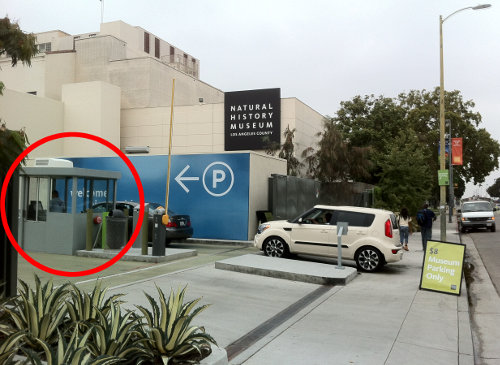 If you have a preserved catch to bring back, here's how:
Come to the Natural History Museum of Los Angeles County before the end of August, any day of the week between 9:30AM and 4:30PM.
Come to the NHM parking lot booth on Bill Robertson Way (the parking lot immediately adjacent to the NHM, not the State lot across the street). Here's a URL for a Google Map of the location: http://goo.gl/maps/FrJYX
And at right is a picture of what you're looking for. Come to the red-circled parking booth for a kit.
Pull up to the parking booth attendant and hand over your NightWatch sample (make sure your data label is with the sample).
Circle back out of the parking lot (sorry, trapping insects doesn't get you free parking. Yet :)
If the lot is posted "Closed / Full", pull up to the curb and give the sample to the parking lot attendant.
---
Why is NHM doing this?
First of all, as part of the Bioscan project, we are trying to understand more about the biodiversity of Los Angeles, focusing on insects (the most diverse group of animals on the planet). Night-light trapping is likely to yield species that we might not sample using our standard insect traps. So the NightWatch program is a complement to BioSCAN's main sampling regime.
But NightWatch is also a great way for us to enable you to get involved in science without having to go to graduate school! NightWatch is one of many Citizen Science initiatives originating at the Natural History Museum. Doing science is the best way to learn about it!
If you have questions
Please contact us at:
Lisa Gonzalez <lgonzale@nhm.org>
Dean Pentcheff <dpentche@nhm.org>